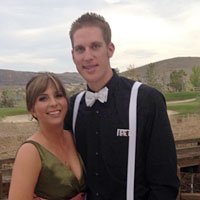 Duane and Lynne are very knowledgeable and honest, and work hard for their clients in a professional manner. We were very nervous about the buying and selling process, but they made it fun and enjoyable when it could have been stressful. We called them at least four times a day with questions; they didn't mind at all that we called so often and always had the answers.
– Jeff and Brittany
---
"You guided each step of the sale and everything fell into place because of your knowledge, research and hard work. During the entire selling process, every step was explained clearly and thoroughly. Rather than the sale of our home of 48 years being a traumatic experience, we found the whole situation to be very smooth and organized. There are many good Realtors in the Denver area, but we are so glad that we chose the best – TEAM WHISLER."
– Larry and Celia
---
"Thank you both for the professional and caring service you provided to me in the sale of my parent's home. You were proactive, insightful and easy to talk to. Since I was representing my entire family in this transaction, it was especially important to have someone that I could trust. I will gladly recommend you to anyone looking at either selling or buying real estate."
– Helen
---
"I dealt with Duane and Lynne in both the selling and the purchasing phases of my move, and I am so very impressed with their knowledge, straightforwardness, business acumen, hard work ethic, and their connections in the Colorado real estate and finance communities. They provided me with complete expertise in all areas of my move. That is exceptional.
They were completely candid (yet diplomatic) with me on what it would take to sell my home in the market. They were always available to me whenever I reached out to them, I have never seen Realtors work harder to sell a property than Duane and Lynne Whisler did for me.
In short, there are thousands of Realtors out there to choose from but Team Whisler (Duane and Lynne) are the complete package. Again, I am eternally grateful to them for working with me and I highly recommend them to all."
– Phyllis
---
"The Whislers are conscientious, honest Realtors with years of experience and insight into the Denver housing market tailored to all demographics, whether younger or older. They gave extraordinary service to two of our sons and their families when they were buying their first homes. They were always ready, willing and able to answer questions and give good advice to them. As parents of grown children, were appreciated the fact that the Whislers were giving them good, honest help with their home buying decisions We knew they were in good hands!"
– John and Mary Beth
---
"We just wanted to write to express our appreciation to you. We are getting settled into our new home and are loving every minute of it. We really appreciate all the hard work and patience it took to get us through the process of buying our first home. We will definitely be referring friends and family to you and would love to use you again in the future!"
– Sharla and Jeff
---
"We have used Lynne and Duane for years. We recently moved to Texas and used other Realtors there – there is a difference! The Whislers are awesome to work with (knowledgeable and caring), and even recently sold a home to our granddaughter. We feel like they are part of our family."
– Bob and Diana
---
"The Whislers were very knowledgeable and took the time to explain everything that was happening and why and how it applied to our situation. The worked hard, and were very thorough in helping us understand the process – we were very comfortable!"
– Matt and Paige
---
"Thank you, Duane and Lynne, for your professionalism, diligence, and care in helping us reach the goal for us to sell our home. We felt you truly were working hard for us. We appreciate all your suggestions, help, strategies and effort."
– Russ & Christy
---
"Purchasing our home with the help of TEAM WHISLER was a pleasure. Duane and Lynne took the time to listen to our specific needs s and the features we were looking for, and quickly guided us toward the ideal home. They demonstrated great skill and expertise in all aspects of the process, and the depth of their knowledge of the local neighborhood and builders gave us confidence that we were making a good choice. Thank you, TEAM WHISLER!"
– Dean and Glory
---
"What amazing people you are! Without your patience, guidance and help, we wouldn't have found our dream house! You both were fabulous to work with and we will be recommending you to all our friends! Thank you so much!"
– Roscoe and Kari
---
"TEAM WHISLER is extremely organized and we appreciated their effective communication. They proactively marketed our property in a variety of ways and kept us updated on the details. They listened to us and honored our wishes. Our entire family has a long standing working relationship with Duane and Lynne, and we have purchased and sold multiple homes with them. They are great!"
– Sarah
---
"The prospect of moving from my home of forty-plus years was daunting. It was terrific to have Duane and Lynne Whisler assist me at every step of the way both in the purchase of my new home and the sale of my old home. Their attention to detail, rapid response to my questions and ability to keep me informed throughout the process made both transactions flow smoothly. Lynne and Duane are very good at what they do. I highly recommend TEAM WHISLER!"
– Barb
---
"Thanks Duane and Lynne for your perfect timing in selling our old house and helping us secure the new home that we just love!"
– Tom and Linda
---
"Thanks Duane and Lynne for working so hard in assisting us in updating our father's home so that we could receive top dollar for it when it sold – in just 3 days!!!"
– Rick and LouAnn
---
"Thank you for all you have done for us over the last 30 years. We have purchased and sold all our homes through TEAM WHISLER, and are so appreciative of not only your knowledge and expertise, but the caring you have shown. Thank you for everything!"
– Vivian